1. GETTING STARTED
Thanks for using Tinyblog. If there is any question or trouble while using Tinyblog, feel free to let us know.
2. THEME INSTALLATION
A WordPress theme is easy to install. Installation includes two steps – Uploading the theme and theme activation. A theme can be uploaded either using WordPress dashboard or via FTP. Once a theme is uploaded, you can easily activate the theme from WordPress dashboard.
2.1) Upload the theme using WordPress dashboard
First extract the downloaded zip file.
Login in to your WordPress dashboard.
Now navigate to Appearance -> Themes.
Click on Install Themes.
Click on Upload.
Click on Browse, select the Tinyblog.zip file from within the extracted folder and click on Install Now button.
2.2) Upload the theme using FTP
First extract the downloaded zip file.
Sign in to your web server using FTP client.
Now upload the theme file to /wp-content/themes/ directory.
2.3) Activating the Theme
To activate the theme, go to Appearance -> Themes and find the theme. Click on Activate link to activate the theme.
3. THEME SETUP
3.1) Adding Logo
There are two logo uploading option, please see bellow for more details :
To add your own custom logo, go to Theme Options -> General Settings and there you can upload your own custom logo.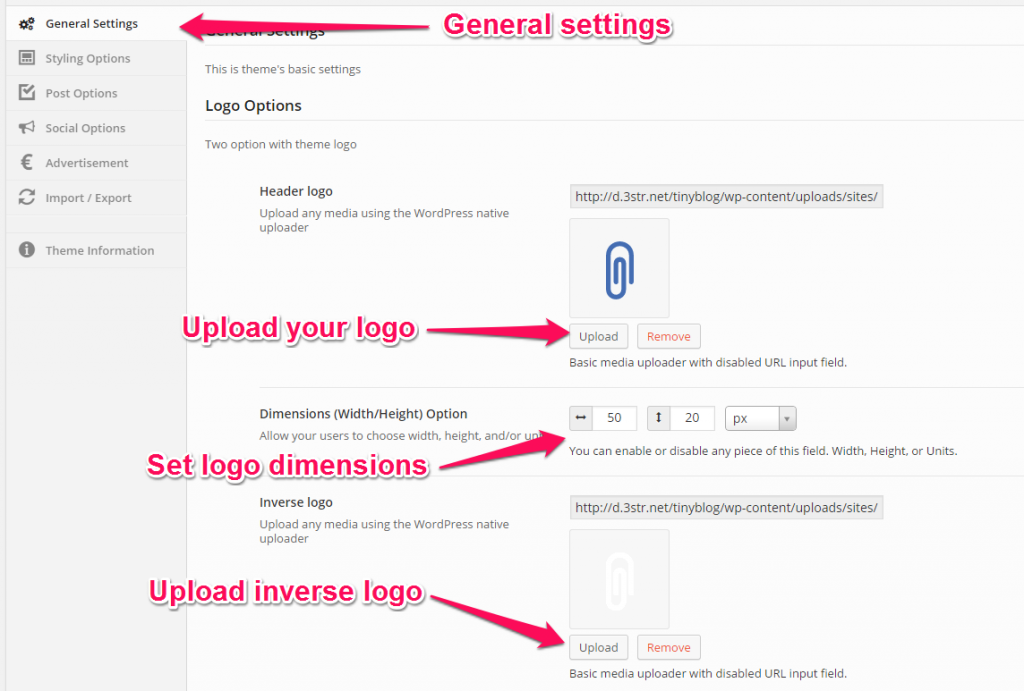 *Upload Header logo (which will be displayed on header )
* Set main logo width and height in pixel.
* Upload inverse logo (This logo is displayed on navigation, when navigation is fixed). Please use logo in white color because of navigation background is dark.
3.2) Adding Menu
This theme supports one menu position that is Main Menu shown below header. To create and add links to menu, follow the steps given below:
Go to Appearance -> Menus.
Click on create a new menu link.
Give your menu a name and click on Create Menu button.
Now start adding links to this menu from left side and when you are done with it, click on Save Menu button.
Go to Manage Locations, select the created menu and click on Save Changes button.
4. ADDING ICONS TO TOP MENU ITEMS
Tinyblog use font-awesome icons as default icons type. You can add any font-awesome icon to any link in the top menu by following simple step.
After create a new menu link as above instruction, please paste icon name ( some one call icon class) in Title Attribute. (see image for more details)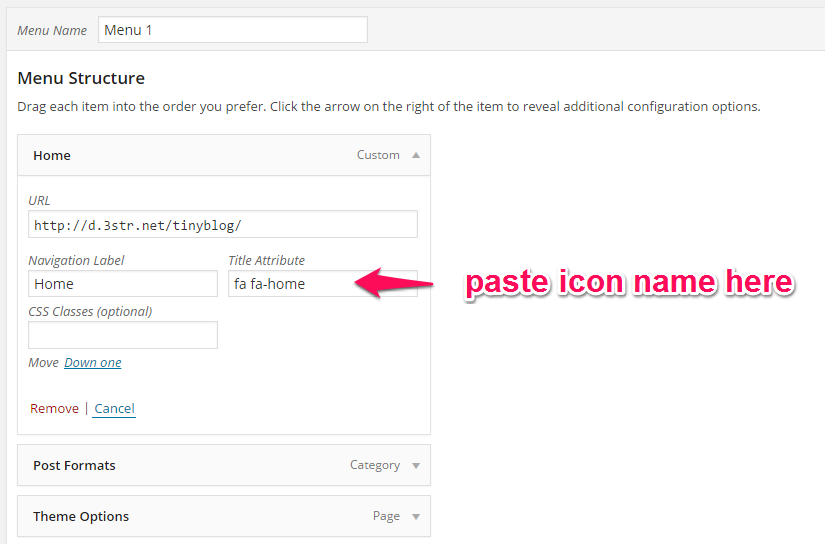 5. SINGLE POST OPTIONS
Post Formats : This theme supports 7 post formats – Audio, Video, Gallery, Link, Quote, Status and Image. You can choose any of the post formats from right side of the post editor.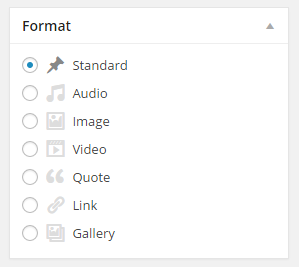 6. THEME OPTIONS
After theme is installed and activated, you will see Theme Options link above Appearance on left side of your WordPress dashboard. We added many setting to help you configure your theme as you want.
6.1) General Setting
Header Logo : This is main logo which will be displayed on header.
Dimensions (Width/Height) Option : You can set logo dimensions to make theme work properly.
Inverse Logo :  This logo is use when option "Enable Fixed Navigation"  is enabled.  It is small logo displayed on navigation when you scroll a page.
Show site title : This allow to show site title which added after you setting up your WordPress site.
Custom favicon : You can upload custom favicon to use with the theme.
Enable fix nav :  Enable top navigation when scroll page, you should add inverse logo to use with option.
Footer Text : custom text to show after widgets and before footer copyright text.
6.2) Styling Options
Color scheme : Select color for your themes.
Enable full width : Display your website in full width.
Home Layout : Select layout for homepage, there are 5 options : One column, Two columns with Left sidebar, Two columns with right sidebar, Three columns, and Masonry grid layout.
Archive Layout : Select layout for archive page, this option is used for Archive Page, Search Result, Author Page, Tag Page too…
Single Layout : This options will be used for Single Post, Single Page layout.
Pagination Type : You can use on of two option : default Pagination Type (Older/Newer Post link) or Page List ( Number)
6.3) Post Options
These options allow to enable which will be display with Single Post.
Show post meta : Enable to show post meta bellow post title.
Show featured image : Featured image will be showed on single post's page too.
Show related post : Enable to display related post at the end of post content.
Show author details : Enable to show author details box at the end of post content.
Show social buttons : Display social sharing button at the end of post content.
Social Share Option : Select which social button is displayed.
Show article links : Enable to display Next post and Previous post
6.4) Social Options
These options are social URL. You can enable which will be use by entering the URL here. Configured buttons can be used in Top Right Share Button, Social Widget…
NOTE : Twitter option use only Twitter username not URL
6.5) Advertisement
Advertisement Management options help you ads exist ads code to your website easy. With Pre-Configured ads boxes : Header, Widget Ads, Contents Ads Box, please see bellow for more details :
Header Ads : This block is suitable to add 728×90 Leaderboard ads, please get your ads code and paste here.
Widget Ads : Normally, you can add 300×250 Medium Rectangle ads code here.
Content Ads : Ads will be showed inside post content (Single Post's page) or post list (Archive Page) with some extra configuration.
Content Ads Configuration : 
*  Content Ads Position : Select Position where content ads is displayed
*  Ads will be displayed after : This is number of post ( Archive page) or number of Paragraph ( Single Post's page) where content ads is appear.
* Ads alignment : Ads box alignment.
6.7) Import/Export
You can use this option to save your theme's settings in a text file and you can also import those imported settings later in future.
7. TYPOGRAPHY
Tinyblog use Theme Customizer to configure Theme Typography with two options, please make sure which font you will use then select Appreance > Customize, Then you can se Typography Option here.
7.1 Heading fonts : select font use with heading, h1, h1 ….
7.2 Body font : font will be use with site's content.
8. TRANSLATING YOUR THEME
This theme is translation ready theme. This means you can translate it to your desired language. To translate your theme, you need to follow the given steps:
First download POEdit and install it.
Now, open the default.po file that you can find in lang folder of your theme.
You can now translate each string in your desired language.
Once you have translated all the strings, you can save the file. POEdit creates two files. You need to save the files using following naming convention:
languagecode_countrycode
If you are translating your strings to french language, your file names will look like:
fr_FR.po
fr_FR.mo
Now open up your wp-config.php file which you can find in WordPress root directory. Find the following string in the file:
define ('WPLANG', ");
Add name of .po file (that you just created) in this string:
define ('WPLANG', 'languagecode_countrycode');
Save this file.
You can read more about translating WordPress at the following link:
http://codex.wordpress.org/Translating_WordPress
9. SOURCES AND CREDITS
jQuery : http://jquery.com/
Bootstrap :  http://getbootstrap.com/
Magnific Popup : http://dimsemenov.com/plugins/magnific-popup/
Font Awesome : http://fortawesome.github.io/Font-Awesome/
FlexSlider 2 : http://www.woothemes.com/flexslider/
Redux Framework : http://reduxframework.com/